Galleria Mall Redevelopment is ready to start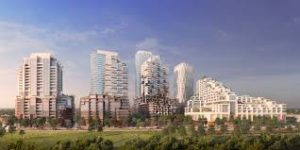 Three years after a plan was first submitted to the city, the redevelopment of the Galleria Mall is now on the verge of transforming the intersection of Dufferin and Dupont streets.
The massive project, called Galleria on the Park, will be built in phases, beginning with a rebuilt community centre and two new mixed-use towers.  The project's size and height were reduced over time, changing from 12 towers in the initial proposal to 8 in the final version.  By the time the entire project is complete, in about 10 years, the low-slung mall will be razed and replaced with eight mixed-use towers containing almost 3000 condos as well as office and retail space.
"We are now zoned and ready to go, fully designed," said Dror Duchovny, vice president of marketing, sales and asset management with ELAD Canada, the developer. "The mall will never be closed for good. We are creating a temporary mall… where we are moving all the tenants who are remaining."  Plus, the existing Wallace-Emerson Community Centre will remain open until the new centre, set to be double in size, is ready to open — likely in 2023 or 2024.
"The community fought really hard to have a community centre that was double the size. We're going to have a brand new daycare as well," said Ana Bailao, city councillor for the area.  "The park and redoing the park was really important, [and] to have some affordable housing was really important." In the end, 150 units of affordable housing will be built — a number Bailao wishes could be higher but was "unfortunately" limited by a re-zoning approval several years ago.
Click here for more information on the project.