Community Environment Day – Saturday April 28 at Sorauren Park in Roncesvalles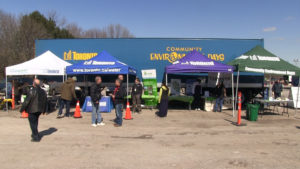 Yesterday was Earth Day and to continue that idea, now that Spring is (finally!!) here the City of Toronto are starting their Community Environment Days.  These run from the beginning of April through to the end of July so there's plenty of time for you to sort out all the things you can't put out for regular garbage collection and bring them along for proper disposal.
Our local Environment Day is THIS SATURDAY (April 28) at Sorauren Park, on the Wabash Avenue side of the Park, from 10am – 2pm.
Here's the list of what you can bring along:
Drop off for recycling or proper disposal
Electronic Waste

Cell phones, home phones
Computer cables
Laptop computers & accessories
VCR/DVD players
Video recorders
TVs
Desktop computers, monitors
Printer & Fax machines
Accessories
Cameras
Receivers, speakers
Stereos, tuners, turntables
Items NOT ACCEPTED are: batteries, smoke detectors, toner cartridges, CDs, DVDs, cassettes, and VHS tapes

Household Hazardous Waste includes:

Paint, primers, stain, turpentine, glue
Household cleaning products, drain cleaners, bleach
Motor oil, gasoline, windshield fluid
Propane and helium tanks/cylinders
Air fresheners, swimming pool chemicals
Compact Fluorescent Lamps (CFLs), batteries
Syringes, medical sharps, medication
Aerosol cans
Lighter fluid
Pesticides and garden products
Cooking oil
Items to donate for local schools for reuse
Yarn, knitting needles, sewing notions, buttons and keys
Children's books, musical instruments
CD's, CD cases, 35 mm cameras
Costume jewellery including broken, old watches
Arts and crafts supplies: pencils, crayons, markers
Corks, cork boards, clipboards
Dress up clothing: costumes, prom dresses, uniforms
Items to donate for reuse
Please keep these separate from other items.
Sporting goods (e.g., skates, hockey equipment, bikes, rackets, etc.)
Books (excluding school/university curriculum books)
Eyeglasses, walking aids, hearing aids, etc.
Small household items (e.g., dishes, ornaments, kitchen utensils, artistic drawings, games, etc.)
Textiles in good condition (e.g. clothing, linens, etc.)
Non-perishable foods will be donated to a food bank
You can also COLLECT compost and kitchen composting containers:
Compost (limit of one cubic metre per household)
Kitchen Container ($5 each)
However, there are products you CAN'T bring along.  The City says:
Please do not bring construction waste, air conditioners, garbage, wood, cassette and videotapes, commercial/ industrial hazardous waste and scrap metal.