Parkdale Good Food Market – Wednesdays 3-7pm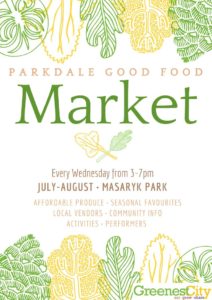 The Parkdale Good Food Market is taking place every Wednesday afternoon in July and August at Masaryk Park on Cowan Avenue.  Come along from 3-7pm on Wednesdays for affordable produce, seasonal favourites, local vendors, community information, activities and entertainment.
What is a "Good Food Market?"
Good Food Markets sell high quality, affordable fruits and vegetables. They bring healthy produce to neighbourhoods where it might not otherwise be available, and where farmers' markets are not viable because sales are too low to cover costs. Learn more here.
Who's Involved?
Greenest City is working with FoodShare, Toronto Public Health, and Parkdale Food Network, to deliver to Parkdale Community Good Food Market. As the market develops, more vendors and community resources will be added.
Get involved!
If you would like to volunteer at the market, become a vendor, provide entertainment, or table for your community organization, contact market@greenestcity.ca for more information.