Updated plans for the site at Bloor and Dundas St West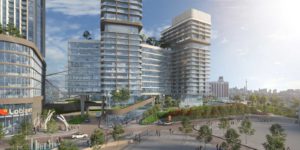 Choice Properties have updated their plans for the site at the south east corner of the intersection of Bloor St. West and Dundas St. West.  At the moment, the site is home to Bishop Marrocco/Thomas Merton High School, Loblaws, LCBO, Kal-Tire, and Coffee Time.
The plans state that the developers are "Building a mixed-use development at the centre of a transit node will bring in a new workforce that will support schools, shops and local businesses while pedestrian and cycle friendly pathways will allow greater access to the places you need to go. This comprehensive redevelopment provides opportunities for diverse housing, a decreased environmental footprint, and an increased sense of community for improved quality of life today and tomorrow."
It's quite an impressive development that's being planned and you can check out the new plans and videos on their site here.
To chat about the project, you can either their office on-site (next to Loblaws) which is open on Saturdays from 11am – 4pm or e-mail ideacentre@brookpooni.com